From baby grands in Columbus and Cleveland, to baby grands in Akron and Toledo, Solich Piano carries the widest range of choices throughout Ohio and Western Pennsylvania.
Solich Piano stocks the largest most comprehensive selection of grand and baby grand pianos in Ohio and western Pennsylvania. From Akron Canton to Toledo, Cleveland to Pittsburgh, Columbus to Cincinnati, Dayton to Athens, our selection and pricing is unrivaled.
Our Yamaha piano inventory is the largest in Ohio and the midwest. Each flagship store offers all lines of Yamaha pianos and serves the various surrounding markets including Cleveland, Columbus, Akron, and Toledo. In addition to Yamaha we specialize in many high end european brands. At any given time we stock premium grands pianos made by Bosendorfer, Schimmel, and Estonia. We also carefully stock a number of new and used baby grand pianos at entry level price points, for those starting fresh. Families and their piano teachers drive hundreds of miles to select from our used Steinway and Kawai baby grand pianos housed in Cleveland and Columbus. 
New grand pianos are likely the most well-known out of all the piano types. They have been featured in everything from major Broadway performances to being used in high-budget movies and TV shows. Primarily, they are used for classical concerto solos, chamber music, and art song. 
While there have been many people who know how to play the piano like Mozart and Bach, some surprising celebrities you might not realize who also know how to play the grand piano well are Robert Downey Jr., Clint Eastwood, and Jeff Goldblum. 
This type of piano is by far the largest and the total floor space needed for the smallest grand should be at least 152cm (5ft) wide by 198cm (6.5ft) long, including bench space. They weigh a significant amount too from 500lbs to 1200lbs. New baby grand pianos offer smaller size while uncompromising in sound if space is more of an issue. 
New grand pianos offer unmatched sound quality more so than any other type of piano and are the highest tier model available. 
Yamaha GB1K And GC Series Pianos
6'1" - 7'6"
A more intimate concert grand.​
9′ Concert Collection Grand Piano
Our Flagship CF Series is the culmination of nearly two decades of research and development to create the world's finest concert grand piano. The CF is the rare union of clarity of tone and power that pianists crave.
Each piano is crafted entirely by hand for a precise response that brings depth, nuance and an endless range of colors to the player's tonal palette. It is simply a superb instrument.
Bösendorfer Art Ballet Video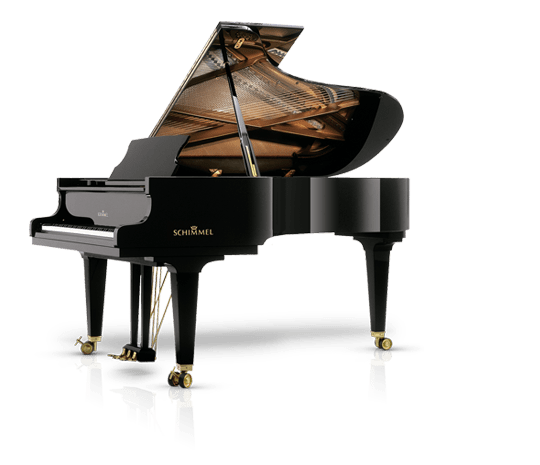 Classic and Wilhelm Series
Wilhelm Schimmel built his first piano in 1885. Inspired by a pioneer spirit and single-minded perseverance, his maxims were always oriented to the expectations of his customers. They could hear and feel the love and care with which his instruments were built and how they were up to standards of tone quality and touch. Up until today nothing has changed in this respect. Craftsmanship continues. Solich Piano is pleased to offer these fine pianos and welcome your inquiries.
Explore Seiler Grand Pianos